Posted: Apr 21 2005 at 10:27pm | IP Logged

---
..
The Babe could have been a surfing champion.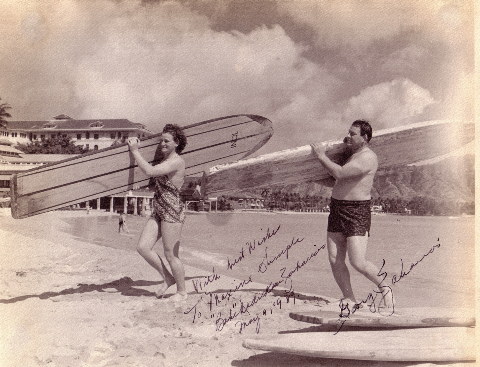 Babe Didrikson Zaharias
(1914-1956)
Athlete
Participating in numerous sports in which she excelled and set several records, Zaharias is recognized as the greatest woman athlete of the first half of the twentieth century.
The 'Babe's' real name was Mildred Ella Didriksen and was born June 26, 1914, in Port Arthur, Texas. Her mother, née Hannah Olson, was born in Norway and emigrated to the United States in 1908; her father, Ole Didriksen, also born in Norway, came to Port Arthur in 1905 and worked as a sailor and carpenter. Throughout her adult life she was known as Babe Didrikson, taking the name "Babe" from the sports hero Babe Ruth and the spelling of her surname, Didrikson, to emphasize that she was of Norwegian rather than Swedish ancestry.
Between 1930 and 1932, Didrikson held American, Olympic, or world records in five different track-and-field events.
Babe was voted Woman Athlete of the Year by the Associated Press, an award which she won five additional times, in 1945, 1946, 1947, 1950, and 1954.
Didrikson married George Zaharias, a professional wrestler and he became her manager.
The autographed photo is of the Babe and George enjoying the primitive beauty of Waikiki Beach and note the primitive surfboards of the era..
Have a good one

and CUL.. Don S..