Posted: Mar 04 2010 at 5:16am | IP Logged

---
I should call this post,

I have that
coffee grinder noise
under my hood at low RPM or just off idle –Help.

However, I thought I knew, or could hear, likely where it was coming from and set out to find a plausible fix.

I suspected my supercharger and started researching the unit on line and here at the forum -again.
I say again because a while back I got the performance bug and wanted to see what I could reasonably do to soup my 2003 Frontier S/C SE up. Apparently, there's not much or at least not in the conventional sense anyway. I quickly learned that the mildly exotic performance enhancing S/C unit on the Frontier greatly limited the usual bolt-on options as well as even specific maintenance manuals. I found it surprising how long I had to search even just to find the manufacturer of the unit. Eaton M62 –first generation.
I found then that, a popular mod was to reduce the size of S/C belt pulley, spinning it up faster and working the S/C that much harder. There is a respected pulley set on the market, but concern with over-spinning the bearings was a flag for me –until I thought I might have a S/C rebuild on my hands anyway.
After returning to my Eaton M62 research, I discovered that there's a cottage industry revolving around the "grinding" supercharger issue. Most notably regarding this unit's nose cone, it's specialized oil, and "coupler". As the kits are not expensive I chose one of many offered at eBay, as well as the bearings and seal to do a complete rebuild should the kit prove inadequate or simply misguided. I was concerned however, as I found little mention at the forum about this otherwise "common noise" and no mention or reaction to these kits. The supercharged truck's top of that line status and few years of production may account for such little chatter about them, but I was flummoxed by so little discussion about S/C maintenance and performance frankly. Time to find the noise with my own wrench.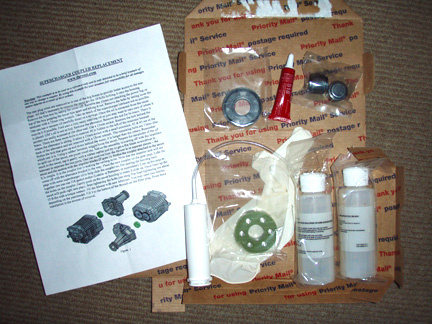 *This kit was not supplied with the two rear roller pin bearings or front nose cone seal, I added them in my order from this vender.
I decided to go after items one-at-a-time, and closely listen to any, if at all, changes in the phantom churning. First, I would go in after the Eaton M62's oil and coupler. It could not have been an easier procedure. Though the instructions were for nearly any application of the Eaton M62, and there were a good number, they got the job done. The supplied siphon easily removed nearly all the oil from the nose cone's small filler port.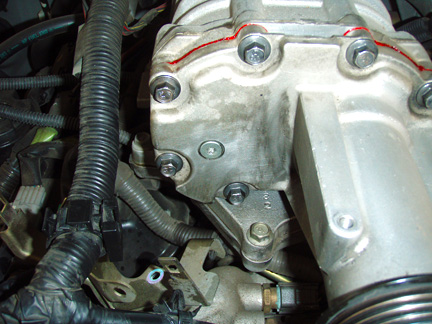 Torx Drain/Filler Port

I was unduly excited to find however, that, after pulling the belt, much was made of checking the play in the un-belted pulley for slop. The pulley did have what felt like excessive free play clock wise and counter. However, upon pulling the nose cone the reason for this was obvious –the stock coupler is spring-loaded to reduce presumably shock.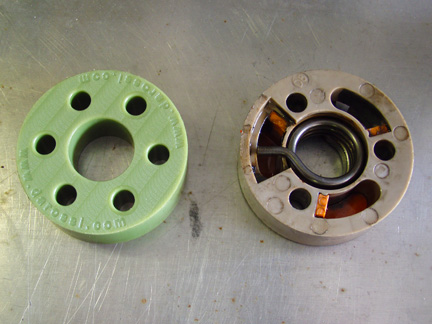 Kit "coupler" left & stock "spring loaded coupler" right.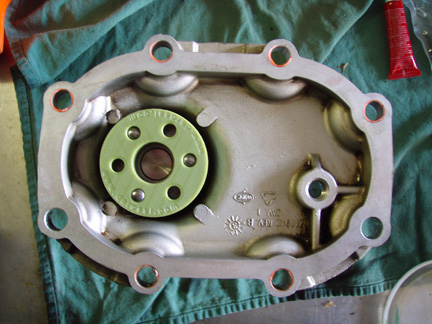 New coupler installed in nose cone.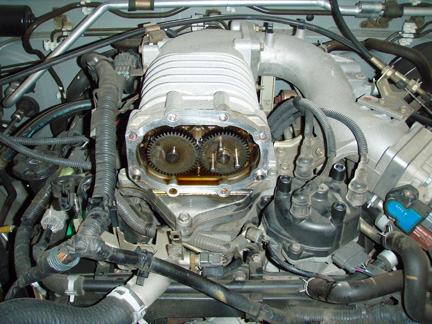 Open Eaton.

Though the springs could be fatigued, the coupler showed no signs of undue wear, but I replaced it with the solid nylon plastic piece in any case –but harbored little hope that this was the fix. I resealed the cone to the housing with the supplied Loktite gasket, torqued it down to the suggested 15 ft lbs and refilled the cone with the also supplied one (of two) 8oz GM S/C Oil bottles.
Upon starting the truck, the noise still returned, not terribly surprisingly, after warm up, yet now with a steady even grind, if with less of a loose wobble. Damn, bearings I thought, and resolved to go in after them in the nose cone.
I also, as you may likely have surmised, ordered a reduction pulley kit and puller from Pulley Boyz, as I rationalized that I would not be able to liberate the pulley shaft and reveal the bearings and seal without removing the pulley. My research had also warned that removing that pulley was no mean feat and in fact unvaryingly destroyed the stock pulley. No sweat, new pulley too – in a reduced size. Ok, only one size from 2.64 stock to 2.5 (also available are 2.4 & 2.3), not enough to cook my new bearings, but a step in the right direction.
My excitement over billet parts got the better of me and I convinced myself that I could simply replace the pulley and no bearings for now, just to have some fun. I could always pull a part I had just pressed on to get at the bearings later I rationalized.
Not so easy. I mangled the pulley for sure with the puller. It's pretty much a one-way street with no return once started. But, once the new bright pulley was installed (with the tool essentially in revers. Pulley Boyz instructions were top notch), all was well again, if still grinding away.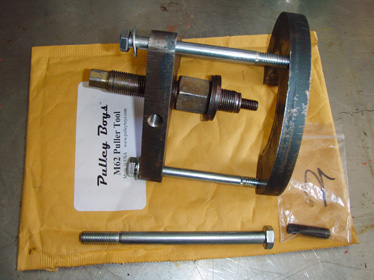 The Pulley Terminator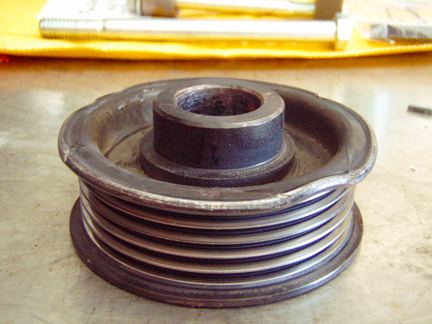 Pulley Damage

But, hold on here just for a minute. While driving the truck around the following day, I noticed a surprising gain in S/C spin-up and top end power with just a one step smaller pulley! This was great! I did still have the troubling noise, but I was faster.
Then, a new suspect was considered. In loosening the tensioner pulley on the belt system a number of times in this operation already, I suspected that it or even it's immovable other reverse pulley sharing their mounting plate could be accountable for such racket. After spraying lithium grease into the hubs and backsides of both pulleys, suspecting that both were sealed bearings in any case, I drove on through the day.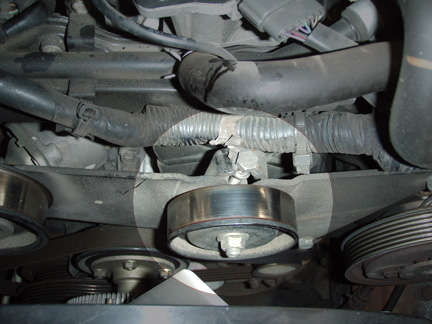 Belt Adjuster Pulley

I was, and still am, reluctant to report that the noise has seemed to be subsided. It may have been dry or a warn tensioner pulley bearing all along! I am going to pull the adjustable one to investigate any maintenance possible or look for damage. It simply may be sealed and I may have been lucky to have penetrated it with the lithium grease. If I can't sort it, I'll replace it.

However, I have learned about my truck's Eaton M62 Supercharger, kits I am skeptical about from eBay, and fast pulleys!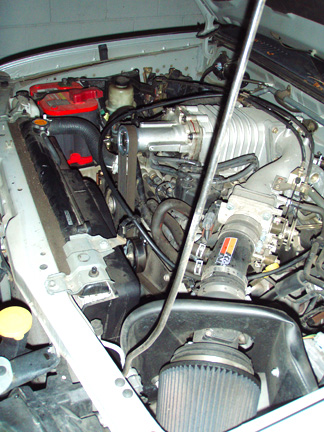 Stay tuned for: the "Next Level G-Box Tuned" Mod.

Mark S



__________________
1965 Datsun 1300 520 Pickup
2003 Nissan Frontier S/C SE Crew Cab Std Bed
Is that what you wanted it to look like?